For beginner Canada goose hunters the question that typically come to mind in regards to decoys is what kind of decoys are good for beginning goose hunters. With the information from this article you will be able to save yourself significant time and money trying to figure out the right type of decoys are good to use if you are just getting started with goose hunting.
What kind of decoys is good for beginning goose hunters? Before making the decision on what type of decoys are good for beginners it is important to know what type of decoys are available. The primary kinds of goose decoys are full body, shell, windsock, floating and silhouette decoys.

Full body decoys
Full body decoys are life-size replicas of real geese. They are the most realistic decoys but they have downsides which include the highest cost, portability and storage issues. These decoys can easily run you $200 or more for a pack of six brand new and are very difficult to transport unless you have a truck or trailer. They will also take up significant storage space.
Shell Decoys
Shell decoys are life size shell molds of geese. You either set them on the ground or some of them have stakes that
can be used to hold them off the ground and some of the steaks add movement with the wind. They are stackable allowing you to store and transport a large number of the decoys in a relatively small area. These decoys are also moderate in cost ranging from about $10-$20 per decoy.
Windsock Decoys
Windsock decoys are decoys that have bodies made out of fabric or plastic and typically have a head of a goose on it that goes through a stick. These decoys do need some wind to be effective because they need to fill up with air to look full and also need the wind to add movement. However, they do have a significant advantage in relation to cost, transportability and storage. These are some of the least expensive type of decoys and you can typically get them for about $5 each. For storage and transportability you simply fold them up and can put several dozen of them in a plastic storage tote.
Floating Decoys
Floating goose decoys are life-size replicas of real geese, similar to full body field decoys and are made when you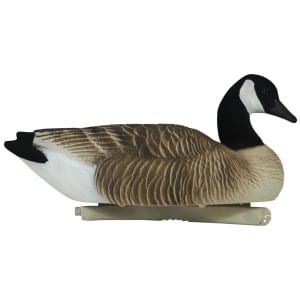 hunt geese over water.  Typically they are made of plastic and sometimes wood.
Goose hunting is often done over water so floating decoys will be an essential item in your hunting supplies.   Floating decoys also provide great motion for goose hunting.   They have a weight and line attached to the bottom of each decoy that keeps them from floating away.  The line allows for the decoys to move back and forth with the natural movement of the water and wind as you are hunting.
Downsides to this style of decoy include transportability, cost and paint wearing off.  These decoys do not stack so they can take up some storage and transport space.  However, you can purchase decoy bags that allow you to carry a dozen or more decoys in a backpack like bag. With the decoy bag the decoys do bump against each other so sometimes the decoys can rub on each other and wear the paint off.  These decoys are similar in cost to full body field decoys where you will typically pay $20 or more per decoy.
Silhouette Decoys
The final decoy type is silhouette decoys. Silhouette decoys are exactly what they sound like which is essentially a
cut out of the shape of a decoy. They are typically made of some type of heavy cardboard but people have also been known to make them out of wood or even metal. These decoys can be very effective but certainly are not as real looking as some of the other options. Additionally, they can be somewhat fragile if they are made out of cardboard. However, like windsock decoys they are inexpensive and easy to store. These range from $5-$15 each and you can easily store several dozen of them in a stack.
Based on the information we just shared our recommendation for beginner goose hunters is starting with shell goose decoys. We make this recommendation due to the moderate cost, good durability, ease of storage and transportation and finally their effectiveness with fooling geese. You can get a few dozen of these decoys for a couple of hundred dollars which should be enough to get you started with your spread. They are relatively durable being made out of heavy plastic and have excellent realism which means you will be able to fool geese with these. Shell goose decoys also make great starters because if you really get into goose hunting and decide to invest in the cost of full body decoys they make very good fillers to your spread so they will never go to waste.
What type of decoys are best for beginners?
This will really depend on your specific situation but if you want to keep your costs low as you get started you could start with silhouette decoys or shell decoys.  Then as you start to expand your goose decoy spread you could start adding some full body decoys.
Checkout my resources page with my recommendations on decoy options.
Get the DecoyPro Goose App
Tap your phone device here for the app: